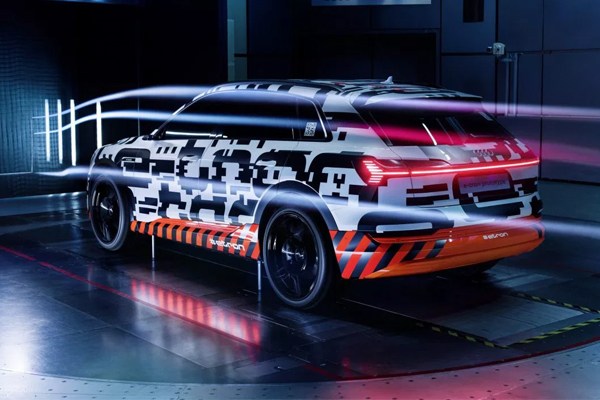 According to German Automaker, Audi,  the upcoming E-tron will be available with the world's first 'virtual' exterior mirrors, helping to reduce the car's aerodynamic drag coefficient to just 0.28.
What this means is that the upcoming electric SUV will cut through the air like a knife due to it's reduced aerodynamic drag.
Audi says its aerodynamic design choices, such as body styling and air suspension contribute towards the e-tron's 399 kilometer driving range in the WLTP cycle.
The virtual door mirrors is one of the design that contributed to the e-tr0n's high driving range.
The e-tron will be the first car in the world to receive such technology, which sees parts that look like conventional mirrors attached to either side of the car, but are narrower and have cameras built-in instead of mirrors. Images from the cameras are then displayed on OLED screens in the section between the instrument panel and the door. The mirrors can be adjusted for highway driving, turning and parking to make driving safer.
The optional cameras replace conventional door mirrors and project digital images onto screens located inside the car where the front doors meet the dashboard.
The e-tron SUV, which is due to be fully revealed in August, will be powered by a dual-motor powertrain using a 95kWh lithium ion battery and capable of 150kW DC fast charging.
The starting price of the Audi E-tron is €80,000 (N33.7 million).