One of the first signs that you have made it is your ride. Owning a flashy set of wheels, expensive sports car or big comfortable limousine is a sure sign that you are successful, rich and possibly famous. For decades, success has been measured by the car you own. Most people don't feel complete until they buy an over-the-top car and proudly drive it everywhere.
So, what do you do if you desperately need an expensive-looking set of wheels, but you can't afford the real thing? You should buy one of the cars from this list. They are previously expensive luxury models that, with the help of depreciation, managed to come down to reasonable price levels. These cars are obtainable to a much wider audience.
You will be amazed at how many cool and prestigious cars you can buy for the price of an ordinary mid-size family sedan or even a used compact car. So, keep reading to learn about 25 cars that will make you look and feel rich.
Nissan Z350
Although the Z350 is a somewhat outdated sports car, it is still fast enough and cool-looking for people to think that you are rich. It helps that its base price was relatively high when the car was new. Available as a coupe or a roadster, the Nissan Z is a sports car legend in an affordable package.
Best of all, this handsome front-engine-rear-wheel drive car has a potent V6 engine and limited slip differential as standard equipment. This feature makes it safe to drive hard but it also makes it a favorite drift car.
There are plenty to choose from with average prices in the $10,000 to $15,000 range. Also, the enormous aftermarket support for this model means you can easily tune and customize your 350 Z any way you want.
BMW Z3 and Z4
BMW is famous for its compact sports sedans with powerful engines. However, in 1995 they started producing sporty roadsters in the form of the Z3 and Z4. There's a wide arrange of models and early ones are affordable, but later ones could go over $20,000.
You should always look for six-cylinder versions since they deliver a lively performance along with that charming open-air driving feel. The Z3 and Z4 are light and compact, so they are the perfect summer cruisers to help you look rich for not a lot of money.
Fiat Dino
Back in 1967, Fiat introduced the Dino. It was a coupe and convertible sports car featuring a Ferrari V6 engine straight from the 246 GT Dino. They also officially sold the Fiat Dino Coupe in America. You can find one in the classified ads for as little as $15,000.
That means you can own a piece of Ferrari magic for Ford Fiesta prices. And, if you are a budget-minded enthusiast, you should look for the Dino Coupe since it is more common and affordable than the convertible.
Jaguar XJ40
You probably never thought you could own a proper Jaguar sedan for just $3,000. But, if you search the classified ads for a late '80s Jaguar XJ40 you will find some great deals. Of course, you will still have to make a few compromises since for this price you can't expect a car in perfect condition.
However, you will be able to buy a decent, cool looking Jaguar with a straight six engine, automatic transmission and leather interior. If somebody sees you rolling in this Jag, they could think you are old money. Just remember that the original MSRP was over $50,000.
Ferrari Mondial
You thought you cannot get Ferrari for Toyota Camry money but you are wrong. Introduced in 1980, the Mondial was the successor of the 308 GT4. Despite the fact that the Mondial was more practical and somewhat cheaper, it wasn`t particularly popular and today it is one of rare poorly regarded models in the Ferrari community.
The production ended in 1993 after close to 5000 examples were made. Today, this is one of the cheapest ways into Ferrari ownership and a decent example will set you back around $35,000.
Porsche Boxster
With over 20 years since Porsche introduced this roadster, it is safe to say that the Boxster revolutionized the concept of the open-top fun car and stood the test of time as a future classic which you can own today. Since the base 2.5-liter delivers healthy 200 HP it makes even the most affordable Boxsters pretty agile, fast and exciting to drive especially if paired with the 6-speed manual transmission.
The original sticker price of just below $50,000 is long gone and today you can find decent examples for around $5,000 which is a steal.
Mercedes E55 AMG
In 1998, AMG released its ultimate version of standard E-Class in form of the E55 AMG. From the outside, the E55 AMG looked like any other E-Class with just minimal changes but underneath the body, there was a 5.4-liter supercharged beast just waiting to be released.
With 349 HP and 391 lb-ft of torque, E55 AMG could accelerate from 0 to 60 in just 5.4 seconds which was late '90s Porsche Turbo territory. AMG built over 12,000 examples which make them relatively plentiful today and you can pick up a decent example for around $10,000 which is a steal.
Mercedes S600
You probably don't know this, but you can own a V12, 6.0-liter, top of the line Mercedes S-Class for around $10,000. Doesn't that sound tempting? The Mercedes S600 in question was the W220 model they produced from 1999 to 2005. It was the biggest, most powerful factory offered model.
With a base price of over $110,000 when it was new, it is interesting to see how depreciation has affected it over the years. Today, you can buy a decent S600 for $10,000 and it will make you look fabulously rich for the price of a used economy compact car.
Jaguar XJR
If you are a sucker for the everlasting Jaguar XJR`s style and looks, you will be pleased to know you can buy one of those beautiful, but problematic machines for under $10,000. That's a far cry from the original $70,000 price tag and an inexpensive way to look rich for less than $10,000.
Jaguar introduced the XJR in 1998 and discontinued it in 2002. And this generation of the Jaguar XJR features a supercharged version of their venerable 4.0-liter V8 engine. It powers the rear wheels through an automatic transmission, delivering 375 HP.
Maserati BiTurbo
You may be surprised to know that you can easily become a proud owner of an almost classic Maserati for as little as $8,000. For that money, you can buy a decent Maserati BiTurbo, which they introduced in 1981 and produced until 1994. The BiTurbo lineup of cars started with the 222 model, which was a handsome two-door coupe.
And it continued with those 420 and 430 sedans they built on the same base. The car's original price was close to $50,000 in the mid-80s. But thanks to depreciation and the poor quality of the BiTurbo model, you can look rich and sophisticated for the price of a used Ford Focus.
Mercedes SL
When you think of the best car of the 1990s, there is one car that stands out and that is the famous Mercedes SL R129 generation. The SL roadsters were always fantastic driving machines and ultimate Stuttgart classics. However, the R129 was the symbol of the decade and the automotive personification of success, power, speed and quality.
The mid-90s SL 600 with the V12 engine had an MSRP of over $120,000, which is around $200,000 by today's rates. But now you can get one of those over-engineered roadsters for exactly 1/7th of the original price. This is an interesting proposition since rolling in a Mercedes SL convertible will scream that you are wealthy.
Audi S8
The early 2000s S8 was an interesting machine. It has a fully-aluminum body and extremely capable Quattro all-wheel-drive system. And they put a high revving 4.2-liter V8 engine in an elegant and comfortable package.
The S8 was the car for cruising the highways in total safety and luxury. That luxury had its price, which was $74,000 back in 2002. Today, the same car can be yours for just $5,000. The long and sleek Audi S8 looks posh even though it costs little.
Rolls Royce Silver Spirit
It sounds unbelievable, but you can buy a proper Rolls Royce for less than $10,000. That is right. The early '80s Rolls Silver Spirit is a super luxury sedan with classic looks, a powerful engine and a bespoke interior.
If you decide to buy this car, it will show that you have class, money and are a member of high society. And, if that is exactly what you want people to believe, that $10,000 was well-spent.
Maserati Spyder
The early 2000s brought the Maserati renaissance with new models and designs, as well as powerful engines. And one of the cars that has survived the test of time is the beautiful Maserati Spyder. When it was new, this convertible was expensive.
But today, it costs less than $20,000. And that is a bargain when you compare it to similar Ferraris. As you can expect, rolling in a drop top Italian sports car will make the impression you want.
Bentley Turbo R
Just the name Bentley is something that immediately screams wealth and influence. For current models, you need to shell out over $300,000. But if this is impossible, the next best thing is the '90s Turbo R.
For around $20,000 you can get a stately looking luxury sedan with an unmistakable appearance. Also, you will get a decent amount of power and performance thanks to the turbo V8 engine.
BMW M5 E39
The M5 that BMW built from 1998 to 2003 is widely considered one of the best performance sedans of all times. The heart of the car was a glorious S62 4.9-liter V8 engine with 400 HP. And it sent all the power to the rear wheels through a six-speed manual, which was the only transmission choice.
A once expensive executive sedan, today, you can find an M5 E39 for around $18,000 in decent shape. That means you can look rich and go fast for Hyundai money.
Fiat 124 Abarth
One of the most stylish roadsters currently on the market is the Fiat 124 Spider. They introduced the original 124 Spider in 1966. Now, 50 years later, Fiat has presented a new version with charming retro-futuristic styling.
They added lots of interesting features and a chassis they borrowed from the Mazda Miata/MX-5. This Fiat gives you the chance to drive a rare, Italian roadster with turbo power and distinctive looks for Miata money. If you are looking to appear rich but can't afford a Ferrari, this is the only way.
Bentley Arnage
The $25,000 mark is a not a small amount of money, and with it, you can buy a lot of decent new cars. But you can also buy an early 2000s Bentley Arnage. Believe it or not, it's one of the best-looking super-luxury cars of the early 21st century.
And, it is now in your price range. Of course, you must settle with an example with lots of miles and not a perfect service history. However, you'll have a Bentley Arnage and look like million bucks.
Lotus Elise
When they presented the Lotus Elise in 1996, it caught the automotive world by storm. It was such a compact, yet beautiful roadster with a lightweight body and precise handling. And it was unique on the market and influenced many big manufacturers to produce similar models.
Although rare and somewhat expensive when new, you can find them now for around $20,000. This will make the Elise a great car for looking rich since it is a British almost hand-made sports car for a supermarket price.
Jaguar XK8
Are you craving for an imported luxury coupe or convertible, but have a middle-class income? Why not opt for a used Jaguar XK Convertible. They introduced it in 1996 with an MSRP of over $70,000 and there are numerous well-kept examples on the market.
For the price of an average used compact car for around $7,000, you will find yourself driving a luxury coupe with V8 power and a leather interior.
Porsche 911
Even though the classic 911s and current models have prices through the roof, you can still find bargains on the used car market that will make you look rich. The shape of the 911 is iconic and makes it recognizable as an upscale car.
And if you show up in a 15-year-old model, you will still look like a well-to-do person. If you are a fan of rear-engine sports cars, you can have an early 2000s 911 for as little as $15,000.
Chrysler 300 C SRT-8
A competitor to the BMW M5 or Mercedes E-Class AMG, the SRT-8 was the performance version of the 300C sedan. Equipped with 6.1-liter V8 Hemi engine pumping out 425 HP and a glorious soundtrack through the twin tailpipes, the SRT-8 was a fast, capable sedan. A 0 to 60 mph sprint took around 4.9 seconds and the top speed was over 170 mph.
With an original price of around $50,000, it was one expensive Chrysler sedan. However, due to depreciation, it is now the price of the used compact car. This means now is the perfect time to buy this muscle sedan.
ADVERTISEMENT – CONTINUE READING BELOW
Cadillac Escalade
The Escalade is full-size luxury SUV powered by big V8 and full of all kinds of luxury items and systems. It is big, bold and over-the-top in every way. This approach reflected its base price, which was almost $55,000 in 2005.
Today, a 2005 Cadillac Escalade in decent condition with desirable options goes for less than $6,000 on the used car market. Since nothing tells people you are rich more than showing up in big black Cadillac, this Escalade is the perfect way to achieve your goal.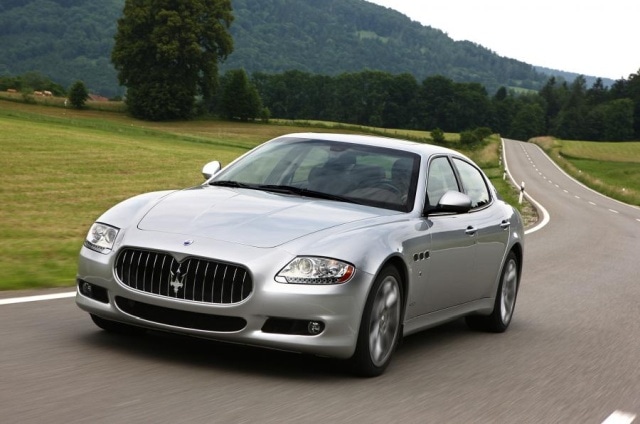 Maserati Quattroporte
One of the most interesting super-luxury sedans is the Maserati Quattroporte. This big and prestigious four-door sedan has a powerful engine, an elegant yet sporty design and uncompromised luxury. And, of course, it also has a high price tag.
However, today, you can find a 10 to 15-year-old model for around $20,000, which is a steal. Imagine showing up in a luxury sedan with a name that is hard to pronounce. There isn't anything more upscale than that.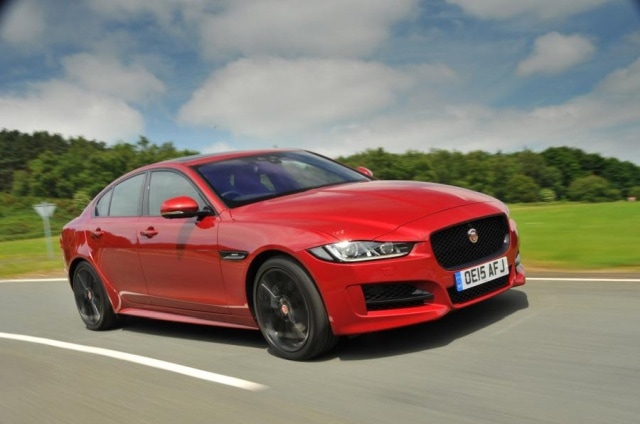 Jaguar XE
The smallest Jaguar currently in production is a compact executive sedan they call the XE. It is a handsome car with a modern design, powerful engines and a great performance. It is also the competitor to the Mercedes C Class, Audi A4 and BMW 3-Series.
However, it is affordable with an MSRP of $34,000. This makes it great proposition for wannabe posh wheels by a notable brand at a Toyota price.
These are the 25 affordable cars that will make people think you are rich. Did you pick a favorite among them? If so, you'd better get out there and start shopping before it disappears.