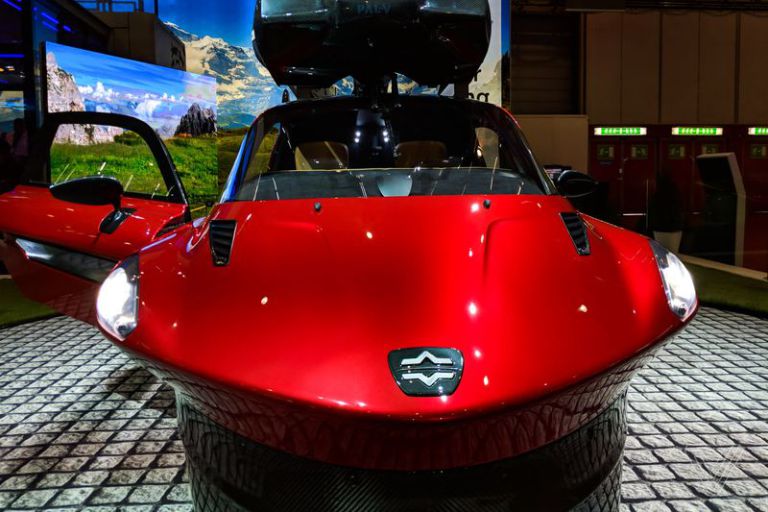 A production version of the world's first real flying car has been unveiled at a motor show in Geneva.
The £440,000 ($600,000) Personal Air and Land Vehicle (Pal-V) Liberty can hit 112mph (180kph) on the roads and in the sky.
Unlike some of the fully autonomous flying car concepts around , which are drones big enough to carry a person or two, the Pal-V Liberty will require a pilot's license to operate.This is because, it's essentially a helicopter that you can also drive.
The twin-engine craft, which looks like a hybrid between a motorbike and a helicopter is made of carbon fibre, titanium, and aluminium and weighs 1,500lbs (680 kg), and requires a 540ft (165 metre) runway for take-off and just 100 feet (30 metres) for landing.
The craft is fitted with a similar handling system to that of a motorbike, which relies on the driver tilting the vehicle with a control stick both on the ground and in the air.
Pal-V International has designed the car so at the flick of a button the blades fold down and gather like a bat's wings on the top.The Pal-V uses normal unleaded petrol for its two 100-horsepower engines.
The 27-gallon gas tank provides a flying range of between 248 and 310 miles (400 to 500 kilometres) at an altitude of up to 11,500 feet (3,500 metres).
On the road, it can drive for up to 750 miles (1,200km). On both air and land, the vehicle has a top speed of around 105 mph (170 km/h) and goes from 0 to 60 mph  (0 to 95 km/h) in under eight seconds.
After six years of testing, PAL-V International aims to pip its competitors to the post by becoming the world's first mass manufacturer of a flying car.