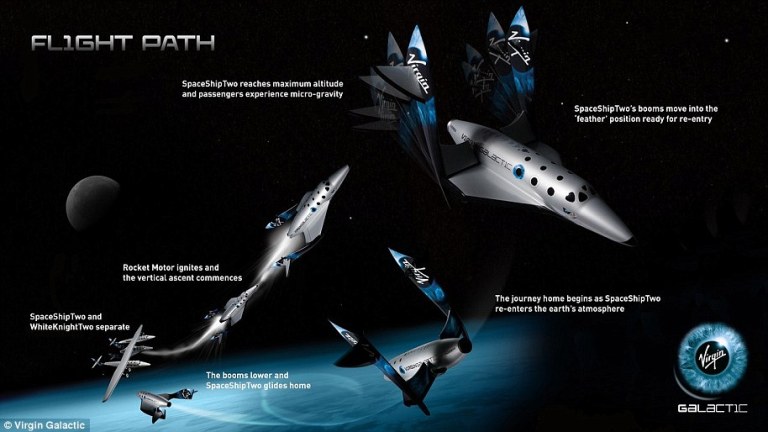 Virgin Galactic took another step towards sending tourists into space with its latest successful test flight.
Instead of using a traditional rocket to launch its spaceplane/spacecraft into space,Virgin Galactic uses a carrier aircraft called a WhiteKnightTwo.
The carrier aircraft carries the spaceplane to its launch position,a height of about 45,600ft above the earth's surface before releasing it into the atmosphere.
The spaceplane's rocket engine then ignites, firing it for 31 seconds to a top speed of Mach 1.87 (that's almost twice the speed of sound) and 114,500ft( 34,900 m) above the earth's surface.
The spaceplane descended and landed safely at the Mojave Air and Space Port in mojave, california on tuesday.
The 31 seconds test flight is a minute less than when it takes passengers on its actual flight to space.
Richard Branson's Virgin Galactic wants to fly space tourists to an altitude of 360,890ft, beyond the 328,000ft defined boundary of space.
This video shows what passengers will experience when they pay about N90m ($250,000) each for a trip to space on SpaceShipTwo space plane. Virgin Galactic currently has 700 tickets holders.
Richard Branson , Amazon founder Mr Bezos and Elon Musk are into commercial space travel to get space tourists into space.