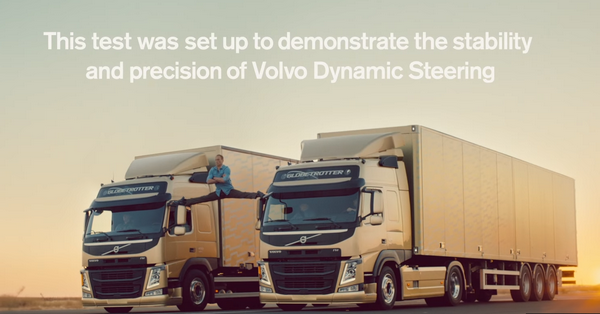 One of the most viral Youtube video over the past few days was a Volvo Trucks commercial. Its epic success was thanks to the collaboration with famous action movie star Jean-Claude Van Damme.
In the video, the Belgian actor splits between two reversing trucks of Volvo. It was intended to flaunt Volvo Dynamic Steering, the pioneer in the car world when it comes to the reversing technology in drives.
The star said the theme music (Only Time – Enya) played in the background was the only thing going in his mind while stunting.
Safety precautions have been attached to the two mirror to secure his safety. However, no computer tricks were involved.
Video: Volvo Trucks – The Epic Split feat. Van Damme (Live Test)
 It was intended to flaunt Volvo Dynamic Steering
In the video, the Belgian actor splits between two reversing trucks of Volvo
Only Time – Enya played in the background was the only thing going in his mind while stunting
No computer tricks were included