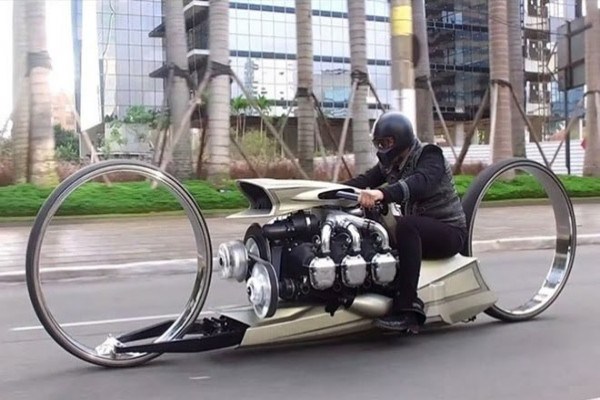 This ultra-sleek TMC Dumont motorbike is powered by a 300-horsepower Rolls-Royce Continental V6 aircraft engine from the 1960s.
It has 36-inch hubless and spokeless wheel, the largest wheels ever made for a motorcycle. It is fitted retractable lighting, 4 four gallon aluminium fuel tank and a two gallon oil reservoir .
Every aspect of the Bike from the design of the chassis, to the colour and painting of the frame,was developed and manufactured in Brazil.
The creator, Tarso Marques, a Brazilian and a former Formula One driver said:
"And I wanted this to be a 100 per cent Brazilian project, without any foreign supplier"
The TMC Dumont bike ,named after the Brazilian inventor and aviation pioneer Alberto Santos Dumont, was made for the 77th Daytona Beach Bike Week rally event in Florida, where it was awarded the title of Best in Show earlier this year.
The creator said:
"My greatest motivation was to show the Americans our capacity for creation and innovation with a 100% national project"
"And I think these trophies of the photos respond well to this doubt and prove that not only did we succeed, but that the dream was worth it."