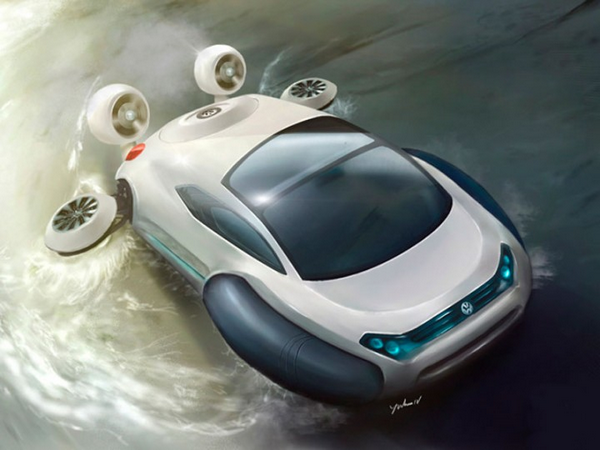 To release a production car is not an easy math. These futuristic vehicles, unfortunately, failed to find new homes!
Concept cars or prototypes are described as a testing model that car manufacturers bring in at the motor shows to examine the customers' interest and its feasibility to fare well in the market if it will be launched in the future.
And for that fact, some concepts miss their launches in spite of great designs and features included. The explanation for this is pretty easy. Introducing a car into the auto market requires more than that.
Today let's check out cars that were awesome but not lucky enough to be brought into production.
1. Volkswagen Aqua
As its name reveals this Volkswagen vehicle can travel on water. More appallingly, it requires no modification to travel from roads to water. This would be specialized for the Chinese roads where the roads are often flooded.
The Volkswagen Aqua concept car
2. Demaxian
The Demaxian makers aimed at a futuristic vehicle which can give room to 11 people but still travel at a higher speed than most of the cars that time.
For the fuel economy figure at 30mpg in the 30s, it's hard to find a similar vehicle at its time.
The Demaxian concept car
3. GM Astro III
This is another vehicle that was developed by General Motors. With its gas turbine-powered powertrain, the car is capable of 317 HP.
Aside from the retractable canopy, it is the rear-view CCTV monitors which could turn every customer's head in the late 1960s.
The GM Astro III concept car
4. Dodge Deora
Based on the A100, the Dodge Deora was built to be a futuristic vehicle in the 60s. Powered by a Slant-6 engine, the car is capable of 101 HP.
It was designed and made by Alexander brothers, Larry and Mike.
The Dodge Deora concept car
5. Egoista
This car may look like a vehicle from another planet with its one-seater design. Though its neat body look, it impressively delivers up to 600 HP via a 5.2L V10 engine.
First due for Lamborghini's 50th anniversary, the concept was built as a combination of a jet fighter and a bull.
Its father, designer Walter de Silva described the car as "hedonism taken to the extreme", which is why it was built to be a one-seater interior.
The Egoista concept car
>>> Also see: 
6. A360 Concept
This is a concept car that is considered as a crossbreed between a jet and a UFO. The concept car doesn't need wheels to move. Instead, it is three spheres that carry the car so that it can move in any direction.
Along with a multitude of high-end features, the one that is most looked forward to is a camera system which provides the driver with instant information.
The A360 Concept car
7. Sixteen
This Cadillac concept introduces a luxurious interior which can populate 4 occupants. The roof is made 100 hundred percent glass while the real crystal used for the decor even brings it to the next level of luxury.
The concept runs on 24-inch wheels which along with the 1000 HP V16 engine produce an impressive speeding figure.
Video: Cadillac Sixteen Concept Car 2004
8. EN-V
The EN-V came from a partnership between General Motors and Segway. The EN-V gets power from a lithium battery which can be recharged with a household outlet.
The EN-V concept car
9. Chevy Chaparral 2x
This vehicle was first designed to join Gran Turismo 6 on behalf of General Motors. However, there was only one Chevy Chaparral ever produced.
The Chevy Chaparral 2x concept car
10. SAIC Yez
Shanghai Automotive thought about a futuristic vehicle when they first came up with the SAIC Yez. The futuristics is not only found in its exterior look but also in what's other car manufacturers even not think about: provide oxygen from a process of handling dioxide.
No doubt the car was made as a primary purpose of ceasing the process of pollution which is becoming critical in China.
The SAIC Yez concept car