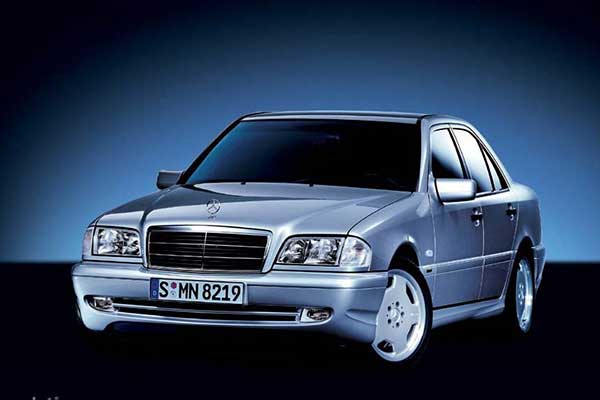 The Mercedes-Benz C-Class is the brand's best selling range since its launch in 1993. But that's not we are looking at now. What we are concerned about is the 1st ever V8 engine (C43) that was fitted to a C-Class. Other rivals from Germany and elsewhere offered powerful V6 engines to their top of the range model but not Mercedes-Benz. They decided to go against all odds and fit a naturally V8 engine.
The engine debuted in 1997 and it was a new 4.3-litre that outputs 306 hp and 302 lb-ft of torque. This engine was a pioneer for Mercedes as it was used later in the E-Class (E430) and the 1999 S-Class (S430). It was powerful and it left its rivals on the dust as it does 0 to 60mph in just 5.7 seconds which was very impressive at that time. The sweet part was the fact that the C43 was also available in the estate (wagon) variation making it the most powerful estate at that time. The C43 is mated with a 5-speed automatic transmission with a rear-wheel-drive set-up.
Both the exterior and interior look the part although it looks more like the Sport trim of the C-class with some AMG touches. The wheels fitted was from AMG but nothing out of the ordinary as it looks simple. On the interior, nothing too spectacular but it had those AMG dials which were cool. The seats on the C43 would be adorned with white leather in the centre and black leather on both sides. The multi-adjustable seats featured pneumatic bolsters on the seat bottom and dual lumbar support on the back. It was controlled with a set of switches situated next to the seat belt buckle. The two-tone theme was carried onto the steering wheel that was an appropriately thick model meant for serious driving.
The C43 AMG will soon be a classic or it is already due to its limited production. Only 4200 units C43s were made between 1997 and 2000 so finding one now will be a difficult find.