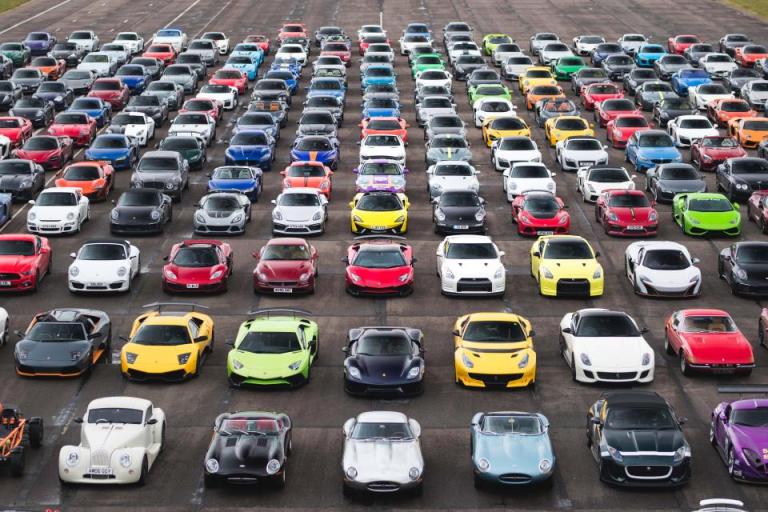 This is the moment 300 petrolheads lined up a supercar collection worth more than £75million at a top-secret meet.
Members of the Supercar Driver club took their exotic vehicles to the Bruntingthorpe Proving Ground, Leicestershire, for their first meeting of the season.
The front row totalled more than £20million of cars which included a Ferrari FXX and Aston Martin Vulcan, each worth more than £2million.
Other front row cars included two Koenigsegg Ageras, worth £1.2million, two £750,000 Ferrari F50s, a Ferrari Enzo worth around £2million, a £1million Bugatti Veyron, a £1million Pagani Zonda F and an Aston Martin One-77 which could fetch as much as £2.5million.
One row of vehicles celebrated the best of British engineering, featuring three Eagle E-Types, worth £500,000 each, a TVR Speed 12, Jaguar XJ220, and a Noble M600.
The third row contained more expensive supercars including a £1.3 million Porsche 918 Spyder, the only Farboud GT in the world which is priceless, a Ferrari F12tdf, which cost around £350,000 and 599 GTO, usually sold at around £275,000.
In total, more than 300 supercars arrived at the event, with Supercar Driver club organisers estimating the total value of the fleet was in excess of £75million.
The meeting, held on Saturday, raised around N11.3m (£22,000) for the Bluebell Wood Children's Hospice.