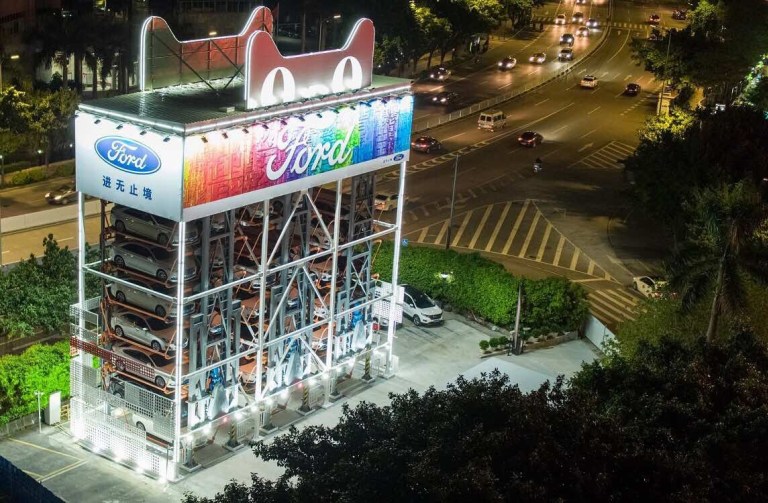 China's largest retailer Alibaba and American auto giant Ford have unveiled an unstaffed car vending machine in China's southern city Guangzhou, offering 3-day test-drives to potential buyers researching their next purchase, allowing them to choose from more than 100 vehicles, including the Explorer SUV, Mustang, Edge and Everest models.
The machine is about five-storeys tall and contains 42 cars. A potential customer can browse through the available car models via Alibaba's e-commerce apps, put down a deposit electronically, schedule a pickup time, and snap a selfie so the vending machine can recognize them when they pick up the car for a test drive.
The test drives are free, as long as customers have a very respectable credit score of 700 or above. In China, the government rates citizens using a social ranking system.
Alibaba said users with a Zhima score below 700 will have to pay a fee. Users start with a score of 550 when they have no transaction history, with scores ranging from 350 to 950.
Test-drives cost N5,700 (RMB 99 or $16) or N11,300 (RMB 198 or $31.5) depending on the model. But Alibaba Super Members, or customers with a Zhima Credit score over 700, get their rides for free.
The process is quick, and Alibaba says it lasts no longer than 10 minutes. Customers can drive the car for three days, testing the car in different scenarios like a normal commute, a trip to the grocery store, and a road trip if they wish.
Alibaba plans to build the kiosks across China and that customers could also buy the car outright with a 10 percent deposit and financing through Alibaba affiliates.
In order to push New Retail, Alibaba has also partnered with other auto companies including Renault and Maserati.