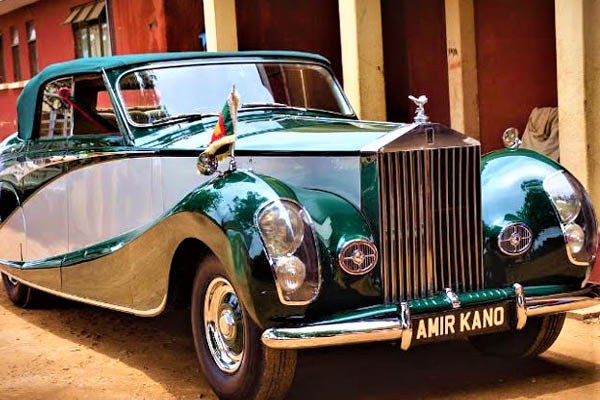 Despite its age, the 1952 Model Rolls-Royce Silver Wraith 'ALW 11' owned by the Kano Emirateis one of the most famous and most expensive to maintain Rolls-Royces in Nigeria – both recent and vintage.
This Rolls-Royce was originally owned by an Armenian-British millionaire Nubar Gulbenkianwho had many custom made Rolls-Royces in his collection. This particular Rolls-Royce was specially designed for him in 1952.
Shortly afterwards, the then Emir of Kano, Abdullahi Bayero (Emir from 1926-1953) bought the car. When Bayero died, the car was handed down to his successor, Alhaji Mohammed Sanusi I ( the grand-father of the current Emir).
It is believed that Alhaji Mohammed Sanusi I made the car available for use by Queen Elizabeth II when she toured Northern Nigeria (Kano, Jos, Kaduna, etc.) in 1956.
The late Emir of Kano, Alhaji Ado Bayero, also later inherited the car and the current Emir, Muhammad Sanusi II, has now inherited it.
Over the years, this Rolls-Royce has undergone several very high cost maintenance work. Almost all the parts have been rebuilt and refitted on it.
For instance, a new ash frame for the alloy body was rebuilt. The Perspex covers for the unique front lights were recreated and replaced. A genuine Rolls-Royce badge bar was fitted on it to serve as a handrail for the Emir when he needed to stand and acknowledge his people; the speedometer was re-engineered, etc.
Of course, this sensitive piece of the Emirate's automotive heritage is not what you would expect just any mechanic to handle.
The job of maintenaning this Rolls-Royce was contracted to a long-standing British independent Rolls-Royce specialist, Chris Lee, of Beaconsfield, Bucks.
According to Chris Lee, when the Emirate contracted him for the maintenance of the Roll-Royce, he was instructed by the Emirate to do anything that was required, to keep it in proper working shape, irrespective of the cost.
Indeed, it requires a fortune to keep a 1952 automobile in top working condition.