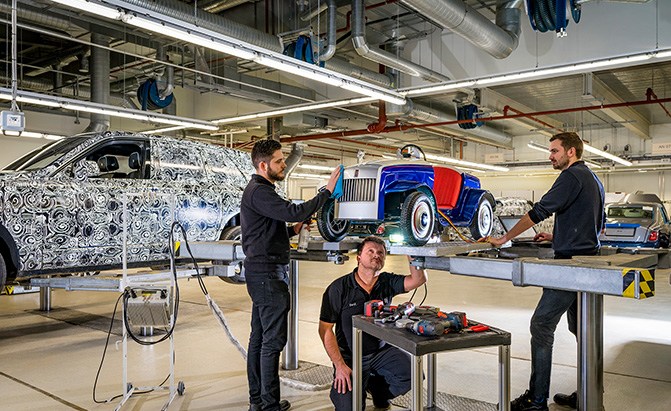 A year ago ,Rolls-Royce unveiled its smallest car to date, the one-off SRH model built for St Richard's hospital's paediatric day surgery unit . Now, the SRH has returned for its first year's service.
Technicians at Rolls-Royce's Analysis Center gave the mini car a clean bill of health, with it having performed faultlessly over the past year. An average of one child per day has driven the Rolls-Royce SRH to the operating room.
The little Roller was built to allow sick children to drive themselves to the operating theatre down corridors lined with traffic signs as a way of reducing stress.
Rather than being anxious about their upcoming procedure, young patients are positively distracted by the fun experience of negotiating the corridors to theatre in a car they can drive all by themselves.
In the above pics, three of Rolls-Royce's technicians can be seen servicing the SRH children's car.
In the background is a test prototype for the Rolls-Royce upcoming Sport Utility Vehicle,the Cullinan.
Credits Motor1