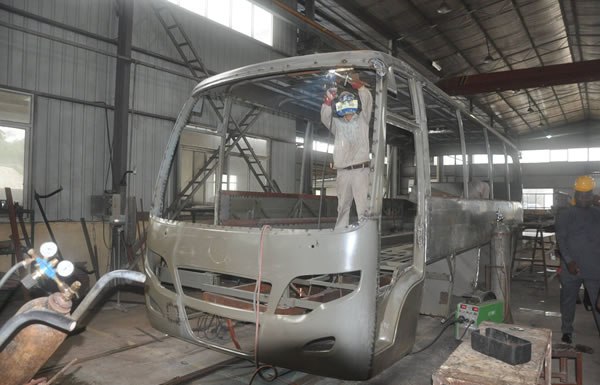 Innoson Vehicles Upgrades From Manual To Automated Production; Set To Increase From 10,000 to 60,000 Capacity Per Annum.
Innoson Vehicles has concluded plans to upgrade some sections of its plant from manual to automated production and this comes with the introduction of robot technology in the plant.
Speaking during the company's management meeting today, June 28th 2018, the Chairman of Innoson Vehicles, Chief Dr Innocent Chukwuma OFR, said it has become necessary the factory introduces new vehicle production lines which will see its vehicle annual production rise from 10,000 units to 60,000 units per annum. The Chairman further stated that some sections of the plant will be upgraded from manual production to automated production which will involve the use of robots. This maybe a first for Nigeria.
Chief Chukwuma further reassured that Innoson Vehicles will continue to employ international best practices in the production of its vehicles and which will compare very favorably in terms of durability, fuel economy, and safety.
"Innoson Vehicles greatest achievement is not behind them neither is it with them now. Innoson Vehicles best is yet to happen. As consumer expectations continue to change and new technologies keep coming out, so will it continue to improve on its vehicles".
Chief Chukwuma encouraged Nigerians to keep faith with Innoson Vehicles and embrace it as our pride.
"Innoson Vehicles is not just a vehicle manufacturing company; it represents Nigeria's Identity and Image. It is the story of Nigeria". He stated.
Cornel Osigwe
Head Corporate Communications
Innoson Group