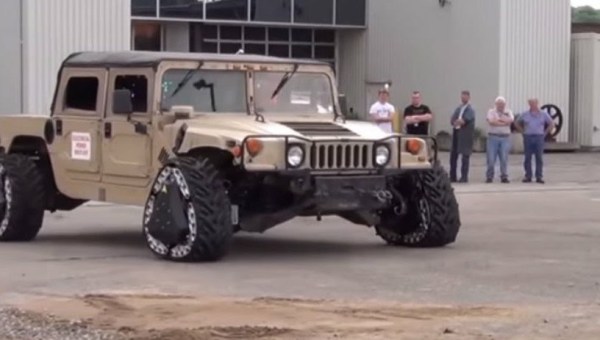 DARPA and Carnegie Mellon University's National Robotics Engineering Center has created a new wheel concept called the Reconfigurable Wheel-Track (RWT) that can change between Round Wheels and Triangular Tank tracks .
The Round Wheel to Triangular Track and back again can be made on all-terrains within 2 seconds while the vehicle is on the move.
The aim of this Tech is to make US military vehicles safer and tougher along slopes and elevations without adding more armor to them.
The DARPA (The Defense Advanced Research Projects Agency ) ,an agency of the United States Department of Defense responsible for the development of emerging technologies for use by the military attached the Reconfigurable Wheel-Track (RWT) hubs and wheels to a Humvee SUV to show how the new concept works.
DARPA said:
"Reconfigurable Wheel-Track's can change from wheel to track and back again within two seconds, while the vehicle is in motion.
"Wheels permit fast travel on hard surfaces, while tracks perform better on soft surfaces.
"The device is perfect for instant improvements to tactical mobility and manoeuvrability on diverse terrains."
The Reconfigurable Wheel-Track concept will surely transform off-road driving on Sport Utility Vehicles like Jeep, if this tech makes it into regular production car.