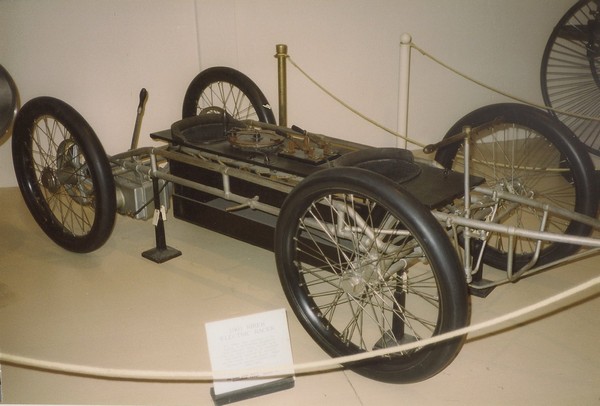 The world's speed record for electric cars
Amidst all the fuss about Elon Musk and his Tesla, some of us might think that it was the first electric car ever produced. In fact, the first electric car was invented more than a hundred years before, in 1891, by an inventor named William Morrison.
As you would probably imagine, it was rather weak and possessed a fairly small power to weight ratio, a nearly 400 kg battery only produces 4 horsepower, and not to mention the other 400 kg of the frame. With that kind of weight, it's a surprise for us when we know it could travel more than 25 kilometers per hour. It was such an innovative, but not many people really cared about one, let alone purchased it, since even regular cars are not prevalent on the streets. After a while, a company called Pope Manufacturing managed to sell some of the heavier version of that car.
Contrary to popular belief, Tesla was not the first electric car ever produced
The first working electric car
But that is not the car we want to talk about today. In 1901, 10 years after that first day, a car called "Torpedo Racer" won the first electric car race and also, of course, won the first world record for the fastest electric vehicle in 10 years straight. The track was established in Coney Island of Newyork, where the owner, an engineer named Andrew Riker drove his invention through the 1.6 km of a dirty route in just over a minute (~91 km/h). In comparison, the fastest electric car now travels at around 394 km/h.
Every competitor try to trip down excessive weights in order to travel faster
The US's first-ever automobile race was won by an electric car
Had no intention of developing other types of car, Riker only focused on producing electric vehicles. His hard work finally paid off.
In 1896, his creation won one of the first ever car race where the vehicle traveled 5 laps around the racing track in about 15 minutes. He continued to dominate the electric car field years after that. Once again, in 1901, he won another race by an upgraded version of Torpedo. In this race, his car made it through more than 80 kilometers of dirt on Long Island. What is impressive about that is the car is one of a kind, the only electric-powered car in the race.
If we were to attend the race, it would be fun to watch as all drivers try to optimize the top speed of their vehicle by getting rid of almost everything. Some cars don't even have the upper frame and some don't even have seats.
Did You Know – The First Cars Were Electric?