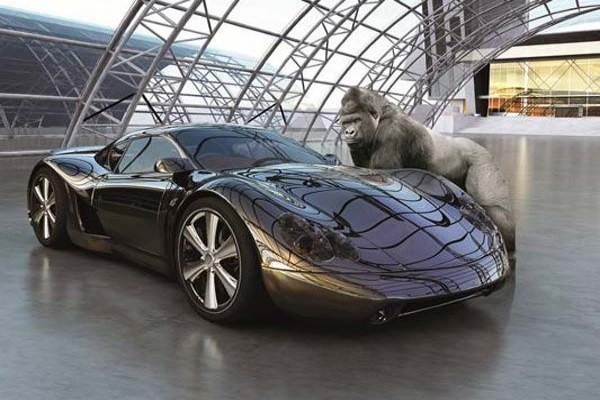 Porsche on Monday announced that its new 911 GT3 RS will come with rear and rear side Gorilla Glass windows in order to cut weight .
The Gorilla Glass (a common name for thin-film glass) is a tough, lightweight, unshatterable and scratch-resistant glass made by Corning Inc. It is commonly used as a protective window for your mobile phones, Television and laptop display.
The tough but light material will make the new 911 GT3 RS's rear and rear side windows to weigh just 3.7 kilograms (8.2 pounds) compared to that of Porsche 911 with the same dimensions that weighs 5.8 kilograms (12.8 pounds)
Porsche said the Gorilla glass also has other benefits apart from its light weight. It can also block 99 percent of ultraviolet radiation from the sun while the traditional safety glass can only block about 70 percent .
It also admitted that the Gorilla glass comes with some disadvantages. Presently, it costs more than the traditional glass it would partially replace due to its limited demand in the automotive market .
An additional problem is the flexibility. The Side windows you roll down can't be made of Gorilla Glass because they could flex at high speeds, and not seal correctly when rolled up.
Last year at the CES in Las Vegas, Corning equipped an electric car with a Gorilla Glass windshield, sun roof, rear window, dashboard, touchscreen steering wheel display and a control panel to demonstrate the effectiveness and potential of the glass in automotive use.
Some of the leading automakers are currently working with Corning's Gorilla Glass Automotive team to change and improve the driving experience.