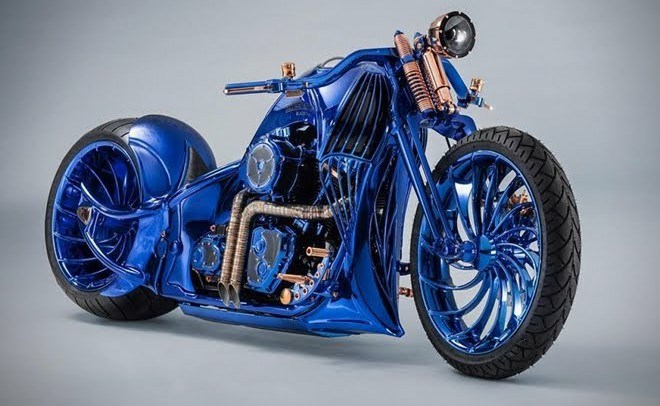 This one-off Harley-Davidson Blue Edition by Swiss watch and jewellery maker Bucherer and bike specialist Bundnerbike is officially the world's most expensive bike.
It took eight people and 2,500 hours or 104 days to complete the wonder bike . Gold are adorned in places where rubber bushes or washers are found on a regular motorbike.
It is designed from the classic Harley-Davidson Softail Slim S and powered by a 1.8-litre air-cooled V-Twin engine connected to a 6-speed gearbox.
The handgrips is decorated with diamonds. The camshaft cover is a transparent armored glass that allows you to see the moving rotating camshaft.
The gold plated brake and clutch levers, dials and throttle valves are illuminated via heat-resistant LED lighting when the engine is working.
The custom made fuel tank has a removable safe embedded with 5.40 Carat Diamond ring .
There is also a rare watch placed on the right side of the fuel tank.
With a price tag of N679 million naira or £1.4m(enough to buy a Bugatti Veyron 16.4 Grand Sport or 4 Rolls-Royce Phantoms) and motorcycle features it needs to run, do you think the lucky owner will ever allow it to see the roads ?