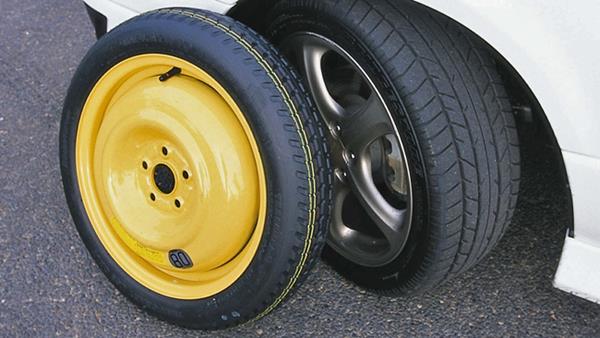 The spare tires on most of current car models are usually smaller than normal tires. However, there are also some spare tires that look exactly identical to the normal tires.
Spare tires are indispensable accessories in almost any car, because they can ensure the vehicle's uninterrupted operation in the case of tire malfunction. With the development of mechanical engineering and the increasing diversification of car types and models, the spare tires are also changing in terms of styles, quality and sizes.
Most small-to-mid-sized cars in the world are equipped with spare tires smaller than normal tires
According to the Edmunds Automobile News, in the past, the spare tire is exactly identical to normal tires. However, from 2007 to 2014, the proportion of cars with a full-size spare tire decreased by 49%. In 2014, most small-to-mid-sized cars in the world are equipped with spare tires smaller than normal tires.
Why do spare tires usually smaller than normal tires?
Technical experts from Yourmechanic give some reasons to explain this size difference:
The smaller size of the spare tire helps to save some space in the luggage compartment.
Lighter weight helps to reduce vehicle weight and maximize fuel economy.
Lighter weight also makes it easy to lift, move or replace the spare tire when needed.
Producing a smaller, lighter spare tire is cheaper than a normal tire, which saves on production costs and helps to reduce the price of the car.
Lighter tires usually have lower traction, which reduces the maximum operational speed of the vehicle. This reminds the driver to take their car to maintenance and replace the spare tire as soon as possible so that they can drive the car normally. If the spare tire is identical to normal tires and the vehicle can run at normal speed already, the driver might not feel the need to go to maintenance and take tire pressure test and make adjustments accordingly. Failure to do this in a long time after changing the spare tire can make other normal tires wear out faster.
Which cars have normal-sized spare tires?
Of course, there are still many manufacturers which provide normal sized spare tires. There are also two categories of normal sized spare tires. The first one is exactly identical to a normal tire in terms of size and quality. This type of spare tire is usually equipped on heavy-duty and long-distance vehicles such as trucks, pickup trucks or full-sized SUVs. The second category has only the same size but has several technical attributes reduced, such as shallower and unhardened treads. These tires are often seen on large vehicles which mainly operate on urban roads and within shorter distances such as crossovers and minivans.
Do you really need a spare tire?
If you are already familiar with cars that have spare tires of various sizes and quality, it can be surprising to know there are cars that do not need spare tires. These modern vehicles are equipped with run-flat tires, which can resist deflation from a puncture and allow the vehicle to move up to 100 kilometers at high speed even after the incident. Pretty insane, right?
​
Run-flat tires can resist deflation from a puncture and allow the vehicle to move up to 100 kilometers at high speed even after the incident