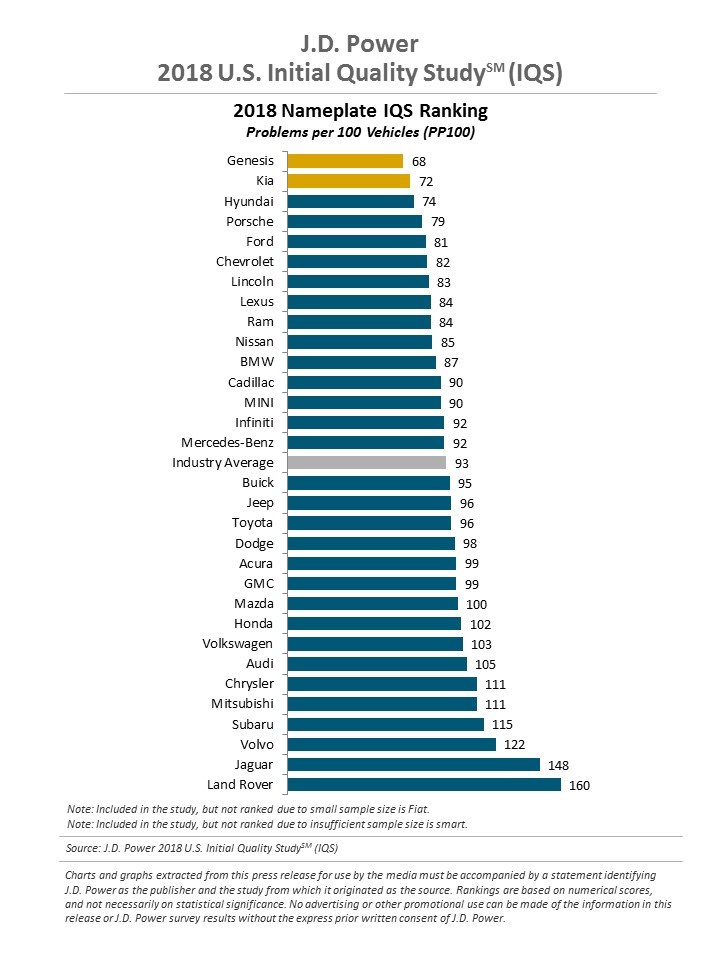 South Korean automakers Hyundai, Genesis and Kia top this year's J.D. Power Initial Quality Study while brand's like Jaguar, Land Rover and Volvo were  ranked at the bottom of the list.
The top position of Hyundai's luxury sub-brand, Genesis, means it had 68 problems recorded for every 100 vehicles while Land Rover had 160 problems for every 100 vehicles in the first 90 days of ownership
The study examines problems experienced by original vehicle owners during the first 90 days of ownership. A vehicle's 'initial quality' is then determined by recording the number of problems a certain model experiences per 100 vehicles (PP100). The lower score, the higher the vehicle's initial quality is.
J.D. Power's vice president of global automotive says:
"There's no question that most automakers are doing a great job of listening to consumers and are producing vehicle quality of the highest caliber,"
"That said, some vehicle owners are still finding problems. As vehicles become more complex and automated, it is critical that consumers have complete confidence in automakers' ability to deliver fault-free vehicles."
The Porsche 911's position as the highest-rated model means they had the lowest number of overall problems this year .
Brands such as Rolls Royce, Bentley,Tesla, Alfa Romeo, Fiat, Ferrari,Maserati and Smart were not included because of their limited number of customers.
For 2018, these are the new car, truck, SUV and minivan models that rank highest for quality in their respective segments.
1)Small Car: 2018 Kia Rio
2)Small Premium Car: 2018 Acura ILX
3)Compact Car: 2018 Toyota Corolla
4)Compact Premium Car: 2018 BMW 4 Series
5)Midsize Car: 2018 Nissan Altima
6)Midsize Premium Car: 2018 Lincoln Continental
7)Midsize Sporty Car: 2018 Ford Mustang
8)Large Car: 2018 Nissan Maxima
9)Large Premium Car: 2018 Genesis G90
10)Minivan: 2018 Dodge Grand Caravan
11)Small SUV: 2018 Hyundai Tucson
12)Small Premium SUV: 2018 Mercedes-Benz GLA and BMW X1
13)Compact SUV: 2018 Buick Envision
14)Compact Premium SUV: 2018 Lincoln MKC
15)Midsize SUV: 2018 Kia Sorento
16)Midsize Premium SUV: 2018 BMW X6
17)Large SUV: 2018 Ford Expedition
18)Midsize Pickup: 2018 Nissan Frontier
19)Large Light Duty Pickup: 2018 Chevrolet Silverado
20)Large Heavy Duty Pickup: 2018 Chevrolet Silverado HD and Ford Super Duty