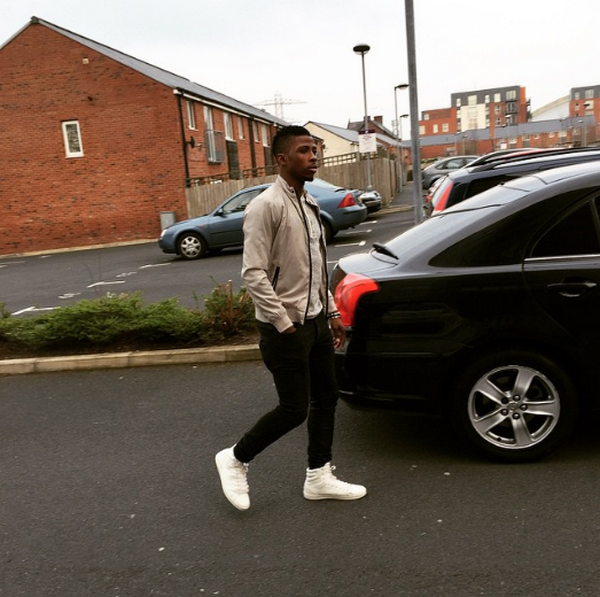 Though Nigeria is being crippled by poverty, we never give up our hopes of a better place. The Nigerian are seen to be whole-hearted and dedicated to hard work. And nothing is a better example for this than the stories of poor children with their passion and desire that have overcome that all to become one of the prides of the country as worldclass football player.
Today, let's check out Kelechi Iheanacho's cars in this post so see how his commitment to hardship has brought him a dream life.
1. Who is Kelechi Iheanacho?
Iheannacho is a Nigerian footballer who plays Premier League clubs Manchester City (2015-16 season and 2016-17 season) and Leicester City (2017- now). Born in 3, October, 1996 to James Iheanacho and Mercy Iheanacho in Obogwe, Imo State, Kelechi Promise Iheanacho (his full name), became one of a few players to have score 10 goals or more before turning 20.
Iheanacho is the highest-paid Nigerian football player
At the start of his career, Iheanacho gained tremendous recognition by fans for his awards and title, which helps he attracted the interest from many big clubs in Europe such as Porto, Sporting Clube de Portugal, and Arsenal; however, he made a move to the city of Manchester and put on the blue jersey. Iheanacho was the core element in the Nigeria squad to conquered the 2013 FIFA U-17 World Cup and the 2015 FIFA U20- World Cup.
He has gained many awards in his career, as especially at the Under-21 level
2. Kelechi Iheanacho profile
The Nigerian football star has experienced a sad childhood, living without his mother's love since 14 years old when she passed away while his father as a trader have to give much of his time for business and often punished him for playing football.
Kelechi Iheanacho's luck might be the standard education from his mother who was a teacher, which help him to have a better prospective look on life and which path he would take along the way. Her and James' support (after being persuaded by the player's determination) drew him on to win a Youth tournament in Abuja.
Iheanacho turned his father's head to let him play
Iheanacho has two brother and sister. In one of his interview, the current Leicester player put his faith in Chibuike Iheanacho, one of his brothers, to be a great player in the future.
3. Iheanacho salary
Iheanacho is being a player for the club from Leicester city, earning £115,000 (~N53m) a week. Before moving from Manchester City, he earns £85,000 (~N39m) weekly at the club. It is reported that his net worth is being about $5,000,000 (~N1.8b).
4. Iheanacho house and cars
Kelechi Iheanacho's houses
Playing in the top playground of all the English football organisations, Kelechi allows himself a life of luxury, savouring all sweetest tastes of a star's life.
The Nigeria National football team player enjoys his life in everywhere he's been to and never forgot his beloved hometown. He's got an expensive mansion in Manchester during his stint here which cost about £2m or N920m. His mansion in Lagos is valued even higher at $2,790,000 or more than N1b.
A rare photo tells Iheanacho's building his mansion in Lagos
Kelechi Iheannacho has been a BMW devotee, which he himself confirmed. Stories of his dreams to own a BMW from his tender age. That might be the reason behind his success as a football player when he grew up.
Now with his career developing a great deal, the football player is now able to pay for his love one, the BMW i8 that won't be had less than £200,000 (~N92m).
Kelechi always dreams of a BMW car
In his garage, there is reportedly a Mercedes-Benz C300 as well which is worth $45,425 (~N17m).
Kelechi Iheanacho is an avid Instagram user. He loves updating his fans of what is going on in his life. One large part of his Instagram is paved ways for his cars. Check out now!
The Super Eagles player likes posting photos of cars on his Instagram
He loves letting fans know about his daily life
His love for cars is undeniable
His Mercedes-Benz C300
Iheanacho posts a lot of photos with his friends as well
How about a fashionista?
His friends must love being framed in his photos
Aside from cars, his fashion is also the talk of the town as well
Kelechi is the hope of Nigeria
He has good friendships with other celebrities
He is the pride of Nigeria and Nigeria is his pride as well
Man in black
Mercedes-Benz seems to be his second most loved brand
He must be a worshipper of black
Everywhere he's at, he must come in style
On a post of his on Instagram, he toasted the 30th birthday celebration of Messi. Here we know which player is his source of inspiration.
Messi is his idol
6. Kelechi Iheanacho football career
His foundation for the football career was aat Taye Academy in Owerri. Here he went on to win the FIFA U-17 World Cup in 2013 for Nigeria. The impressive performance in the tournament attracted Manchester City's interest and the club was willing to pay everything to bring Kelechi to England.
His next big competition as a Nigeria football player was the Confederation of African Football (CAF). The tournament rounded up with Kelechi awarded the Most Promising Talent of the Year.
The difficulties in the paper halted Iheanacho's official move to play for MC though he had been joining Manchester City's Academy since 10 January 2014. He had his first match for the English club in February 2015 at under-19 level playing against Schalke 04 in the UEFA Youth League.
Iheanacho's time at Manchester City
Kelechi was included in Manchester City's pre-season campaign in July 2015. He was the one who set up for Raheem Sterling to score the first goal in the match against Roma. He himself scored a goal in the same match.
His time at Manchester City was the most memorable
On 10 August 2015, he was named in the first-team line-up for the first time. However, not until 19 days later could he step on the grass in a 2-0 win against Watford. His first competitive goal was recorded on 12 September against Crystal Palace when Wilfried Bony couldn't continue and replaced by Iheanacho.
His first hattrick was on 30 January 2016 in the fourth-round FA Cup match against Aston Villa. This helped him be enlisted in the club's UEFA Champions League squad at the time of Samir Nasri's injury.
In the 2016-17 season, he scored his first Champions League goal in a win over Borussia Monchengladbach.
His performance at City earned him a nomination for the FIFA Golden Boy award which was won by Portugal national player Renato Sanches.
Iheanacho's time at Leicester City
Manchester City with other renowned stars such as Sergio Aguero, Raheem Sterling and Gabiel Jesus reduced Iheanacho's chances to play in his favorite position in the squad. Tired of being an substitute, the Nigerian player penned a five-year contract with Leicester City on 3 August 2017. His debut for Leicester City was a defeat to Arsenal.
He is currently playing for Leicester City
Conclusion
Iheanacho is a bright example of overcoming hardship in life, teaching people how to live to the fullest with their passion. We all know that Kelechi Iheanacho's cars and houses are the valuable possession he deserves for what he been endeavored for for years.
Automilas.com is glad to give you more examples of successful people who refused to give up and contribute to the Nigerian pride like Victor Moses, Obafemi Martins or Kelechi Iheanacho.