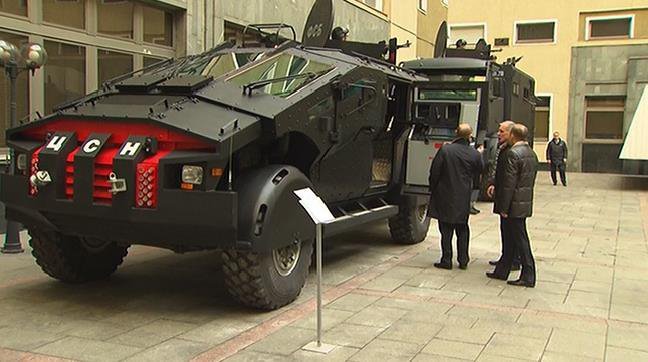 Armoured vehicles are taking shapes and abilities we only dreamt of centuries ago. These vehicles can withstand almost anything, including a zombie apocalypse . Suit up and let's go for a ride
Falcatus
Some people call it the Punisher others call it the Bat-Mobile. With 730hp, this 12 tonne machine can move as fast as 201Km/h !!.
It has three bullet proof windshields inclined at an angle for extra protection .
It costs an estimated $250,000 (approx. #90 Million )
Kombat T-98
This is one of the armoured vehicles on this list with a really luxurious interior, and it looks more civilian. From high quality leather, natural wood and inbuilt fridge, it has almost everything .Even when you are under attack, you would still be cruising in style with a cold drink .It can withstand anti-tank guns, rifles and mines(explosives planted in the ground).It can move as fast 180Km/h
Just like the Falcatus it costs an estimated $250,000 depending on the features built into it .
Knight XV

This right here is my favorite, I love its sleek and at the same time intimidating design.Its one of the most expensive SUVs in the world .It has a beautiful interior and natural cow skin for the leather .The body is built and covered with 2.5 inch thick ballistic steel, including the bumpers.It weighs 6 tonnes and costs a whopping $799,950 (approx. #288 Million).
Marauder

This gigantic monster is almost the size of a tank !.It weighs 12 tonnes and can pull as much as 18 tonnes of weight. It can attain speeds of up to 120Km/h. The vehicle, including the tyres can withstand explosives ( up to 17kg of TNT !! ) .
It costs $523,000(approx. #188 Million).
Combat Guard
It's not only an armoured vehicle, it's also an off road vehicle with a mind blowing 54 inch wheel. It can attain speeds of up to 150Km/h. Apart from the fact that it can withstand gun fire and explosives, it's also equipped with a 7.62mm machine gun, and a special electronic system that can destroy projectiles before they reach their destination.
Due to its advance features, most likely reserved for the military, it was impossible to get a price tag .But it's definitely going to exceed the $1 Million mark(approx. #360 Million)
Inkas Huron APC
This monster looks like it was built for a zombie apocalypse. Its entire body is bullet proof and mine proof. It can carry up to 16 people, handle almost any terrain and can move as fast as 128Km/h
It costs as much as $630,000 depending on the features you request for (approx. #227 Million)
Which of them would you buy if you could afford it ?
Don't forget to share